Sweet Nightmares Are Made Of These Horror Pajamas
As someone who likes horror movies but can't manage to be scared of most of them, and his life isn't too scary either (thank God), I couldn't help but think about unique products which bring horror to our world. One day, when I tried to stay awake while watching a doll horror film, I suddenly jumped with a brilliant idea. "What if there were pajamas that the wearer only had nightmares, met Freddy Krueger at night, and suffered from paralysis Sleep after waking up?" I thought to myself. "Such horror pajamas could be a hit among horror fans, who can't get scared in movies but want to add some action and horror to their lives."
For some reason, I have not come across such a development yet. There won't be any pajamas that put us in a horror movie, even if it could be a ridiculous and entertaining idea. Nevertheless, horror fans can find the beauty of pajamas, with scary objects, famous icons we can memorize even in our sleep, and some gothic designs. So even if horror pajamas don't turn our nights into nightmares, they might be a great addition to our wardrobe.
The Benefits Of Horror Pajamas
If there is something that characterizes horror fans, wherever they are, it is that the nights of many of them are different from the rest of the population. Because what could be more fun than watching a horror movie in the middle of the night, while we are alone at home or when everyone is asleep? I, for example, watch a large part of the movies very late, sometimes even early in the morning, because that fits best in my schedule. There are indeed days when we act like a walking zombie, and there are also symptoms such as headaches and other problems resulting from lack of sleep, but it may be worth it.
The main point is this: if we already watch horror movies in pajamas, why shouldn't it be "scary" and connect to one of our greatest loves? Think, for example, of someone especially dressing up in their scary clown pajamas while watching "It" and trying not to fall asleep, or of the Michael Myers pajamas we wear proudly despite the recent disappointing sequels. To some extent, it's like watching a football match of our favorite team – Liverpool, of course – while wearing the team's jersey. Kind of.
We must remember that pajamas, like other itmes of horror fashion, allow us to express ourselves. Even if, in this case, the exposure to others will be relatively limited because, after all, it is pajamas that we wear primarily at home (I exclude from this the men and women, like me, who sometimes go out at night with the dogs in pajamas or a weird combination of clothes thinking no one would see them, but then find other people with dogs who wears strange outfits), it still exists. The pajamas can contribute to our sense of satisfaction or even self-confidence, believe it or not, and even add a little surprise to our sleeping routine.
Scary Pajamas For Different Uses
With all the trends today of wearing pajamas (or clothes that look like pajamas) even outside the home, we can argue that the brave can also walk around in pajamas during the day and evening outside the house. I have yet to come across people in the streets in scary pajamas, but there could be. Maybe I just don't leave the house enough, as my daughter says.
Scary pajamas are an excellent solution for horror parties of all kinds, for example, on Halloween, and of course, for a horror movie marathon recommended for any horror fan from time to time (and not just on Friday the 13th). You can buy horror pajamas as an excellent gift to someone close to us who likes the genre, for example, for a birthday. Horror addicts are likely to receive this kind of gift with love.
What Types Of Horror Pajamas Are There?
Next, we will see some specific and remarkable horror pajama models. Right on the edge of the fork, it is possible to refer to the main types of pygmies of this type, as we saw in the test we conducted through the major shopping sites. The first group, in great demand, is pajamas with the greatest icons of the horror world on them. You will find pajamas of Chucky, Pennywise, Freddy Krueger, Michael Myers, Jason Voorhees, and many other goodies. The variety of styles here is wide, and you can find, for example, cartoon and cute versions (as much as possible) of these icons so that you will still have a sweet sleep with sweet dreams. Of course, in this case, it is recommended to see if it is an officially licensed item by the franchise because they are usually of higher quality.
Scary pajamas can connect to the broader and more general world of horror, that is, horrific images and objects that are not necessarily associated with a specific film or franchise. Today you can find horror pajamas for adults and children with extraordinary designs of zombies, ghosts, vampires, monsters, werewolves, and so on. There are also pajamas with symbols, including those considered gothic, for example, skeletons or skulls.
Horror pajamas don't have to be bombastic. You can find delicate pajamas with minimal decorations, such as spot blood stains that may have caused a beat or two between your partner in the first second. As with many other items of clothing, in this case, too, you can think about your personal taste and style. Another option on the way to the right choice is to combine the pajamas with other clothing and fashion items, such as scary socks that we reviewed on the website not long ago, a bedding set inspired by the worlds of horror, or other design items in the room.
When choosing pajamas, it is essential to pay attention not only to their specific design. Pajamas must be comfortable, so you must look at what they are made of: it is recommended to prefer quality materials, such as pajamas made entirely of cotton or at least one mostly made of cotton. The size plays a role, and before the choice – especially if you buy it from the Internet without testing it on your body – it is vital to go through the possible sizes and see what fits best according to the size chart.
Scary Horror Pajamas We Loved
Here are some exciting horror pajamas we spotted on the most prominent online sites:
Beetlejuice Pajamas
Beetlejuice is a "Bio exorcist" and, above all – a famous horror icon from the 80s, which appeared in Tim Burton's successful horror parody and is expected to return to our lives in the coming years with at least one sequel.
The following pajamas, officially licensed by the brand, include two parts: a shirt and pants, which are suitable for both men and women. Made from 95% cotton and 5% stretch (a synthetic fabric that stands out for its flexibility), the pajamas feature the character's signature black and white stripes, a printed Beetlejuice head graphic, and bright purple cuffs at the wrists and ankles. You can choose one from six sizes, from S to 3XL, and combine it with other items (not included), such as Beetlejuice slippers.
---
Chucky Pajamas

With the following pajamas, your sleep can be child's play. The following pajamas for adults from Bioworld Store consist of just one item: pants. These include on their backs the famous face and logo of the doll, which is (probably) the most famous in the world.
This Chucky pajama is an officially licensed item. It is made of 92% cotton and 8% spandex. It also features a drawstring waist for optimal fit of the pajamas to the body and a single button closure in the waist area. If you want to store certain items in your pajamas, such as a wallet, keys, or phone, you can do so in one of the two side pockets available here.
According to the manufacturer's instructions, these pajamas can be machine washed.
---
Glowing Skeleton Pajamas (Or: Horror Pajamas For The Whole Family)
If you are looking for an idea for pajamas that the whole family can wear and one that is not considered too scary for the children, you can try the following model. The pajamas, made of 50% cotton and 50% polyester, have a zipper closure. According to the manufacturer, this material is soft, durable, and anti-wrinkle, which keeps its shape for a long time (it is important to note that these pajamas are intended for hand washing only).

The degree of thickness is medium so that it can be suitable for most of the year, including the winter months. What's important here is that you can find pajamas in all sizes and shapes so that you can buy a matching set of horror pajamas for all family members, big and small.
---
Pennywise Pajamas
We continue with pajamas designed by the great icons of the horror world, and this time – one that gives due respect to the famous clown responsible for the most successful horror movie ever. The fully officially licensed pajamas include pants and shirts made of 95% cotton and 5% polyester. It comes in one of six sizes and is suitable for both men and women.
The design here is reminiscent of the Chucky pajamas we saw earlier: illustrations of the clown alongside the inevitable "IT" lettering. Since there is no drawstring here, checking the size chart and seeing what fits you and your body dimensions best is essential.
---
Friday the 13th Pajamas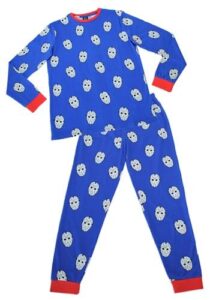 Unlike some models we've seen here, the next pajamas designed by Jason Voorhees from the "Friday the 13th" series don't come in the classic white shade. It is also made from a combination of cotton (95%) and polyester (5%) and is suitable for both sexes. What's remarkable in these Friday the 13th pajamas is the blue background and the red cuffs, with dozens objects of Jason's famous mask in between. You can choose one of six sizes of these horror pajamas.
---
Sexy Horror Pajamas

The next pajamas are super sexy, if I understood correctly from their design and the fact that it includes skeletal hands that are placed precisely in a very intimate and sensitive place of the woman's body. It is also quite revealing, so it can be an incredible gift for the boyfriend or husband, no less than the pajama wearer.
It is made of 100% polyester and includes two parts: a top with the print of the hands and a set of shorts with skeletons emblazoned on it (which also consists of a small "spaghetti" drawstring). In other words: if you are looking for pajamas that will allow you to spend an evening watching a horror movie together, and immediately after doing what you do in the bedroom at night, it can suit you exactly.
---
The Exorcist Pajamas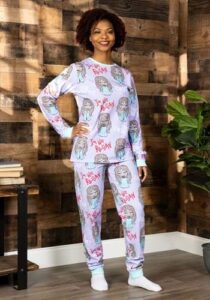 After we've been in sexy areas, we return to pure horror: what could be more appropriate than pajamas dedicated to one of the scariest movies of all time and to an iconic character still present in the nightmares of many people?
The next "The Exorcist" design pajamas feature prints of the haunted girl Regan, on a white background, with a caption quoting the famous line "I'm not Reagan" from the movie. Here, too, you will receive an item in several sizes with a fantastic design that can suit both men and women. Of course, be careful not to throw up green vomit on these pajamas, with all the character's inspiration, because getting it off in the wash might be difficult.
---
Freddy Krueger Women's Pajamas
We end the current review with an excellent choice for the girls. This is a Nightmare on Elm Street one-piece pajama dress with a dreamy (or nightmarish) black color with a picture of the famous dream killer and the words "Ready or not, Here I Come." The dress from Intimo is made of 100% soft cotton, a mixture of fabric and cotton. It comes in one of six women's sizes.
Please follow and like us: