Best Horror Movies 2022: Our Picks
"Horror movies aren't what they used to be," horror fans say year after year. The truth is that there is something in this statement of theirs. After all, it's tough to scare the tight-lipped horror viewer who seems to have seen it all. We live in a time when the commercialism of cinema means that we see the same things on the screen, whether it's beaten and expected clichés, sequel versions of familiar movies (remake, reboot, sequel, prequel, and other vegetables), or just a feeling that we've already been in this movie more than once. Still, if you only look, you can see excellent films every year that innovate or be exceptional in their quality. Yes, even ones worth seeing in the cinema.
Our List: Best Horror Movies 2022
2022 was a relatively successful year for horror cinema. The figures at the box office were impressive overall, with some astounding successes, and also on the critical level, we saw several films that critics, horror viewers, and, of course, we, too, were flying over. The following list of top horror movies 2022 will show you everything you might not have seen in the previous year.
Pearl (2022)

If Ti West's "Pearl" could be described in two words, it would surely be the words "Mama Mia." The most impressive thing about this film, which is the prequel to the successful "X" as well, is the performance of Mia Goth. She would have easily received an Oscar nomination in a perfect world where horror films are not excluded from award ceremonies. Mia Goth manages to be sympathetic, incredibly creepy, and relatable, with some memorable scenes. From a wild dance with a scarecrow (huh?), through a chilling monologue of something like ten minutes to the final scene, in which her physiological reactions to what is happening are priceless.
If you have seen "X," which is highly recommended, you probably know that the film is about a group of young people who arrive in the late 1970s at the country house of an elderly couple to shoot a porn film but find themselves in a slasher film. Goth played a double role in the movie: the first is that of Maxine, the porn actress who dreams of making it big. The second and more impressive role played with a ton of makeup and talent, is that of Maxine, the crazy old lady who develops not-so-positive feelings towards the sex gang led by Maxine.
"Pearl" takes place in that cabin, somewhere in 1918, and shows exactly how she came to be who she was. The result is a bit slow but fascinating, wonderfully made, deep, and above all – showcases the talent of Mia Goth. We are waiting in line for the next and final movie in this franchise, "Maxxxine."
---
Barbarian (2022)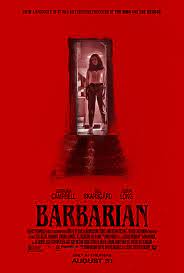 "Barbarian" is an American horror film that received very positive buzz in 2022, and we have a hard time disagreeing with that statement. The debut film of Zach Cregger, who wrote the script and directed it, takes place in several timelines. Without giving too many spoilers, the main character here is Tess (Georgina Campbell), who rents an apartment in a shady neighborhood in Detroit only to find that someone has already rented an apartment there. This someone, who goes by the name of Keith, happens to be a Swedish actor named Bill Skarsgård, who we know as Pennywise from the recent 'It' movies." The film opens with excellent dialogue and great chemistry between the two actors, making me think I had accidentally stepped into some romantic comedy. But then our "Pennywise" disappears, Tess looks for him in the basement, and we get a super scary twist.
We will not go into detail here about the plot of "Barbarian," about his successful monstrous character and the gruesome fate that awaits some of the characters here (no spoilers, but the unfortunate Justin Long plays here, who in almost every horror film finds his death in gruesome circumstances). Only some things connect here perfectly, and some of the subplots need to be explained or take us out of the tension created in the first part of the film. But thanks to the sense of horror, some excellent scares, the acting of the gang, and the effective direction, "Barbarian" is a must for horror fans.
---
Terrifier 2 (2022)

As you may have gathered from our review of "Terrifier 2", we liked this movie. The main reason is that he may have created one of the successful horror icons of the 2000s. If you have not met Art the Clown yet, let's say he is a character of a very cruel clown, with black and white makeup, a striped suit, and a small hat on his head, who walks around with a bag full of killing tools and does not hesitate to use them in creative ways. This character appeared in a short film and as a connecting character in the 2013 anthology film Halloween Eve, played by Mike Gianelli. Later, the clown David Howard Thornton stepped into the shoes and upgraded the character.
We recommend that you watch the first "Terrifier," a solid movie with an excellent villain and an old-school atmosphere, but some would say without a plot or a reasonable level of acting. "Terrifier 2" manages to improve in these respects as well. We get over two hours of horror here, including some scenes that are hard to stay indifferent to (yes, we mostly mean the bedroom scene, as it's called). There's not an Oscar movie here, but the plot does exist, and there is even some emotional depth to the characters. The heroine here is Sienna (Lauren Lavera, who has since become one of the hottest hit girls in the horror world), whose terror of the clown comes to her and her family. Lavera is charismatic, sexy, brutal, and also knows how to act, which is not evident in films of this type. You will also find a very successful sidekick here, a small and not very lovable clown who accompanies Art the Clown on his killing sprees.
The impressive success of the film, which was produced with a ridiculous budget of about $250,000 and grossed more than $15 million worldwide, will also spawn a third film, which should be more profound, more bombastic, and gory.
---
The Black Phone (2022)

We didn't know what to expect from "The Black Phone" when we saw it. On the one hand, expectations were high due to the opening figures: the film is based on a short story by someone who happens to be the son of Stephen King, who is responsible for many of the most prominent horror books of the last decades (which also spawned a large part of the films that every horror fan knows). The cast here mainly includes Ethan Hawke, in the character of "The Grabber." Those who have followed the career of Ethan Hawke, who has stated several times that he does not intend to play evil characters, came to the film confused.
"The Black Phone" takes place in Colorado in the 1970s and deals with a serial killer who terrorizes local children. Our protagonist is 13-year-old Finny (Mason Thames), who isn't having too much fun at this stage of his life: a dysfunctional family with a dead mother and a drunken father, bullying at school, and an innocent childish pursuit of one of the girls in class. Except those problems seem like child's play once he's kidnapped by the killer and imprisoned in a dark basement with nothing more than a black phone.
Finny discovers that with the black phone, he can communicate with the dead, which may help him in his quest against the kidnapper. Some would say that "The Black Phone" is more of a thriller than a horror; what's more, it's a bit slow and doesn't give us everything on a spoon. In our opinion, this is a well-made piece with excellent acting, especially by Ethan Hawke, in a role that shows that even without speaking – and with a scary devil's mask – it can convey a lot of emotion. We are not sure every single one of you will connect to "The Black Phone," but you should give it a chance.
---
M3gan (2022)

Megan, or if you like M3GAN, is a film that connects perfectly with the vast revolution we are all experiencing in recent years: the takeover of artificial intelligence in our lives, which in the opinion of the writer of these lines, can prove to be as life-changing as the internet or digital revolution. Gerard Johnston's sci-fi/horror film is about a robotics engineer (Allison Williams, "Get Out", "Perfection") who makes toys based on artificial intelligence. After a family tragedy, she adopts her 9-year-old niece, Cady (Violet McGraw). The engineer develops a lovable robot named Megan for Cady, but it quickly becomes apparent that Megan is a bit – how shall we say – murderous. She is jealous of anyone who threatens her relationship with Cady, so at some point, we get a human battle In front of the technology he created, a kind of Frankenstein version of the Z generation.
"Megan" is not a classic horror film, nor is it what you expect from a scary doll movie (or, in this case, robot). It contains a topic that has become very relevant, social criticism, and also some quite deep questions, for example, the place of toys in our lives and whether computer applications can replace humans. The film starts slow and a bit clumsy, with a few flashes that, unfortunately, are primarily aimed at the TikTok generation and its ability to make a viral video out of almost anything – including thar famous M3gan dacne scene. The second part already takes a different direction and contains some excellent scenes (mainly the chase in the forest after one poor guy).
The film's ending was a bit sloppy and disappointing. However, it's still worth seeing the movie – also due to our ability to add some counterarguments to the issue of artificial intelligence.
---
Smile (2022)

"Smile" holds an essential title and is the highest-grossing horror film of 2022, with grossing of more than $217 million worldwide. The truth is, we expected this movie to fail on all levels. The trick of horror based on characters giving a creepy smile before doing something terrible to themselves or others seems pretty worn out to us, the plot is too reminiscent of other horror movies (for example, "The Ring" or "Truth Or Dare"), and the cast looks relatively anonymous. It may be that the only actress you know here is Susie Bacon, from the simple fact that her father, Kevin, has been a very (very!) busy Hollywood actor for decades.
So we approached "Smile" with low expectations, perhaps expecting a little guilty pleasure. In practice, we were pleasantly surprised. First, Susie Bacon does a great job here, like most of the cast. The film did almost nothing new in terms of plot but offered some very effective scares: some of them are based on a character who convincingly does the "creepy smile effect" through some successful and even surprising jump skiers (don't watch the trailer!) to the final confrontation with a monster with a pretty good design. So it's true that the ending scene was disappointing, and even before that, some things didn't connect, but in our opinion, "Smile" surely deserves to be on this list.
Anyway, here is the trailer for "Smile." Please, if you are going to see the movie, move elegantly to the next paragraph.
---
Bodies, Bodies, Bodies (2022)

You know that moment when you meet with friends and decide to play a party game based on a party game where you have to scare other people in the dark and find out who the killer is? You missed out if you didn't spend your youth playing these types of games. If so, you may see a particular nostalgic side in "Bodies Bodies Bodies." The film comes from the creator of A24, who are mainly identified with quality films but show that occasionally they have flashes that appeal to a younger audience (like "Talk To Me," which we reviewed here recently).
The story here looks like it came out of Agatha Christie's creator's house, with some relevant adaptations for the current generation. On a stormy night, a group of guys gathers at home to play a game called "Corpses Corpses Corpses." The problem is that the game quickly loses control, real corpses accumulate, and the survivors must find out who the killer is. The ending is quite surprising and, above all – says a lot of criticism about our generation and its fondness for technology.
"Murder Games" is a film that is far from uniform, or if you will: it has not yet fully decided what it wants. Even though it's a horror movie, you won't find many startling or scary moments. It can be seen as a comedy, although it is mainly hidden in the second part and the ironic ending, which shows that we have seen a black comedy here. Still, the result is quite enjoyable thanks to the overall plot, the impressive acting of most of the cast (which includes Pat Davidson, Maria Baklova, and Amandla Stenberg), and some successful touches of humor and irony.
---
Sissy (2022)

the term "sissy" (Sissy) takes on several quite contrasting meanings: it can be seen as an expression of affection ("Sister" or "my sister") but also as a condemnation referring mainly to cowardice. Cecilia, or Sissy for short, suffered humiliation in her childhood on this very background. She is quite a successful network influencer and one day runs into who was her high school best friend, her mother. The latter invites her to the engagement party and the bachelorette party. The meeting with her former classmate quickly becomes charged and bloody as the sediments of the past float and integrate into the control battles of the current generation, which are, of course, also related to social networks.
As you may have already understood from this review, "Sissy" is also connected to the hot topics of the last few years, in this case, social media and the phenomenon of female influencers (we recommended watching the movie "Influencer," which may also increase your fears of the combination of activity on social networks and artificial intelligence). The result is enjoyable overall, mainly thanks to the successful combination of suspense, gore, and satirical humor. The film deals with issues we must deal with almost daily, such as bullying among children and teenagers.
---
Prey (2022)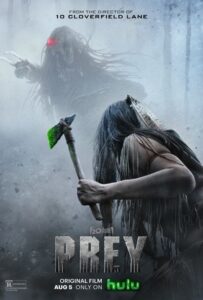 "Prey" is the prequel to the "Predator" films, which began, as you remember, in 1987 with the fight of Arnold Schwarzenegger and the American special forces soldiers against a murderous alien that arrives in the forests of Guatemala. The film can be seen as a critique of many things, including the military of The United States and its seemingly unnecessary wars, but the bottom line is this is a cult film.
"Prey" takes the story of the predator up to the 18th century and the Great Plains region in the central United States. Dakota (the wonderful Amber Meade Hanner) is a young, beautiful, clever warrior. She has many skills, but one major drawback: she needs to learn how to fight. Her tenacity will lead her in the fight against the creature with its sophisticated weaponry, cloaking abilities, and advanced mechanism for detecting people – and probably fluids, on its home planet – by their temperature.
The film is pretty progressive and includes problematic dialogues because they are spoken in modern English for commercial reasons. Nevertheless, it can secure its place in the current list thanks to the excellent cinematography, the convincing heroine, and the well-made action sequences.
---
Nope (2022)

There's no chance we will end our review of the best horror movies of 2022 and ignore the film from celebrated Oscar-winning director Jordan Peele. "Nope" was an impressive box office success and critics' sympathy, but quite surprisingly did not receive a single Oscar nomination. It could very well be that the reason for this is that, similar to Phil's previous films ("Get Out," "Us"), and probably even more distinctly than them, this is a film that is not suitable for everyone. In many cases, saying something like "the movie just doesn't fit" sounds a little arrogant to you, but in the case of "Nope, " it seems this is really the picture of the situation. Similar to films like "Hereditary" or "Midsommar," the primary division is between people who praise the film and those who think it is terrible. In the middle, you will find here those who believe that there was a tremendous potential here that was lost due to the somewhat strange and not always-explained plot, and in a movie of about two hours, this is a problem.
"Nope" is a kind of combination of a western, a science fiction film, and a horror film. The film is about two brothers (Daniel Kalluya and Keke Palmer) who run a farm but discover that the threat facing them is much more than a few cows defecating. Ostensibly, the film deals with an alien invasion, but in practice, we get a very complex text with many interpretations, meta-level references, cinematic and non-cinematic references, and more. In the best tradition of Jordan Peele films, it also raises contemporary questions about racism, acceptance of the other, and everything beyond.
Please follow and like us: