Get a Dreamy Look With Sexy Freddy Krueger Costume
Many descriptions can be given to Freddy Krueger, as befits one of the greatest horror icons. While most people will mention adjectives such as "scary" or "horrific", it is likely that only a minority – if any – could claim that there is anything sexy about the serial killer with the burnt face, the old-fashioned sweater, and the impaled hands. The good news for the ladies among you is that if you want to dress up as Freddy and feel sensual too, you can do so with the help of sexy Freddy Krueger costumes. Let's check out some Miss Krueger costumes, dream killers, and more.
Unsurprisingly for a horror icon this famous, who's responsible for a bunch of horror movies, there are some particularly cool options in the costume area. Here is a review of some sexy Freddie costumes, which will allow you to create the appearance of your dreams. Or should we say: From the nightmares.
---
---
Sexy Freddy Krueger Costumes We Found Online
Miss Krueger Costume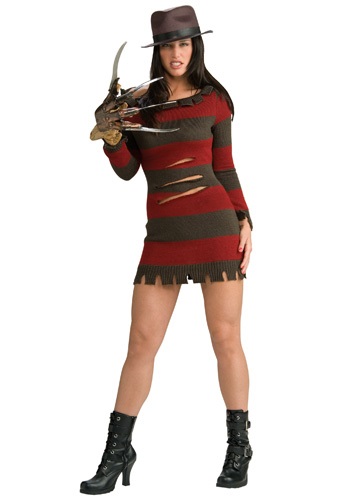 The first Freddy Krueger costume for women is based, to a large extent, on contrasts: between disgust and beauty, for example, is between fear and humor. Mix and match, as they call it. The next Miss Krueger costume includes a matching dress, glove, and hat.
This Freddy Krueger sexy custom is a fully licensed item. It surely includes the small details, that make the choice interesting. The dress, with red-green stripes on it, is made of acrylic (100%) so that it can be adjusted to the desired figure. it has "slash" marks in the upper body area, along torso, while the edges around the neckline and at the bottom of the dress are frayed – reminiscent of Freddy Krueger's "work". You will also find a matching brown Freddie fedora, made of felt, and a reddish-brown "Krougery" plastic glove with 7-inch blades, attached to each of the fingers.
You can find this sexy Freddy Krueger Costume in four sizes: extra small, small, medium, and large. We advise you to check the exact size chart on the website so that you can adjust the perfect fit of Nightmare On Elm Street Miss Krueger Costume for yourself.
---
Please note: We may make a commission for purchases made through the following links:
Buy Now On HalloweenCostumes.com
---
Miss Krueger Costume Plus Size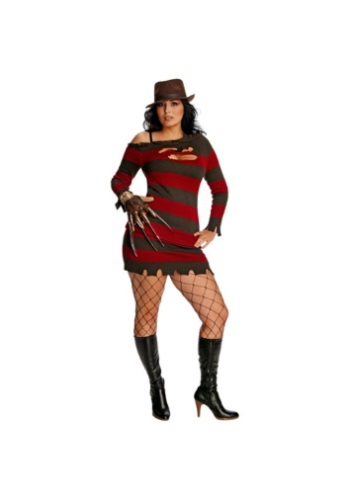 Did you like the idea of a sexy Nightmare on Elm Street costume, but the sizes in the previous costumes don't suit you? You may be happy to hear that there is a sexy Freddy Krueger costume also in plus size. Miss Krueger Costume Plus Size is quite similar to the previous one we reviewed earlier, and includes three items as well: the stretchy green and red striped sweather dress, the brown fedora hat, and the gloves.
The design of the costumes is similar, with the main difference being, as mentioned, the size. As mentioned, the costume is a plus size, and from a practical point of view: length of 99 cm, chest measurements of 112-132 cm, and waist measurements of 91-117 cm. It is important to note that in some of the reviews we read, however, buyers claimed that these sizes are not Large enough for plus-size women, so we recommend taking measurements before buying, and not just relying on the costume's definition as being suitable for women of that size.
There are a few other minor changes to note here. This dress in Plus Size Miss Krueger Costume is made from a blend of acrylic and polyester materials, not just acrylic materials. In terms of design, the "cuts" appear in the upper part of the chest, and not in the stomach area, so you can get a super sexy cleavage.
---
We may make a commission for purchases made through the following links:
Buy Now On HalloweenCostumes.com
---
Sexy Dream Killer Costume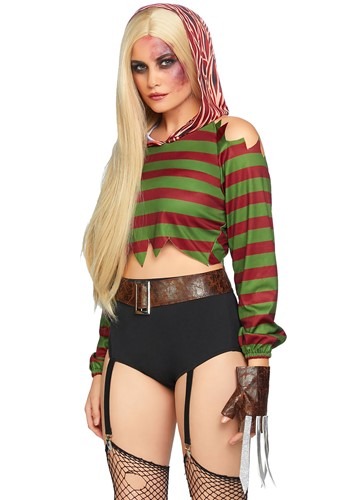 The following costume does not correspond directly with the A Nightmare on Elm Street franchise, nor is it an officially licensed item, but we decided to include it here anyway because it is the closest we can get to the "real thing". And yes, she also looks extremely hot.
Woman's Dream Killer Costume, made of 100% polyester, contains three parts: the first is a top with green and red stripes (like duh!), in which you will find sexy "rips" in its lower part and the shoulder area. The top comes with an attached red hood, to create a somewhat mystical look. The costume also includes tight shorts, with a matching belt and clips that can be attached to stockings to complete the performance (not included). The third item on this Dream Killer Costume, of course, is a leather glove with long foam glitter claws.
---
Please note: We may make a commission for purchases made through the following links.
Buy Now On HalloweenCostumes.com
---
---
Nightmare on Elm Street Women's Blazer – A Casual Look With A Dreamy "Twist"
It turns out that you don't need full costumes to feel like Freddy Krueger or even a sexy version of him. Alongside dedicated products such as shoes, pajamas, shirts, or socks, which can suit horror enthusiasts all year round, we found some items that can be integrated into creating a sensual costume. Here, for example, is a short top coat, or blazer for short, made by US Blazers.
This sexy Freddy Krueger costume includes all the features of a normal blazer, so it can be suitable for going out or for a party in the office, for example: among other things, detailed lapels and a pair of pockets. The outer shell of the coat is black, while on the inside lining (made of satin) you will find illustrations and inscriptions from the cinematic universe of A Nightmare on Elm Street, in a rich red shade. Note that the cuffs of this blazer are folded, with prints similar to those on the lining, so you can hint at your performance.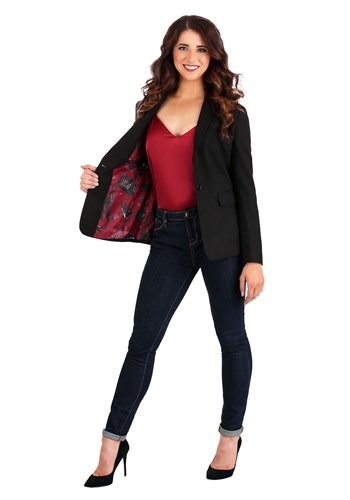 This item comes with over 10 sizes to choose from, so here too it is recommended to go through the size chart before making the purchase.
Please note: We may make a commission for purchases made through the following links
---
Please note: We may make a commission for purchases made through the following links.
Buy Now On HalloweenCostumes.com
Accessories You Can Combine With Sexy Freddy Krueger Costumes
No matter which Freddy Krueger Lanshani costume you chose, you can make it even better with some cool accessories. There is a wide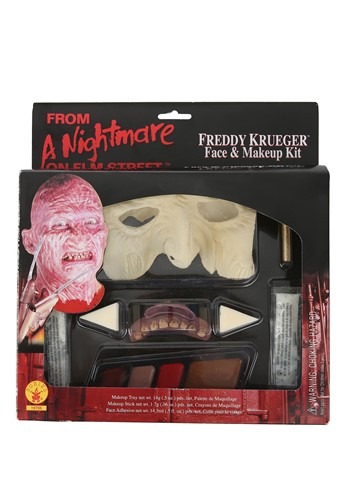 variety of matching accessories, such as masks or gloves, that can be incorporated into some of the performances we have mentioned here.
Another option, which can be even more special, is to buy Freddy's makeup kit. The kit includes, among other things, a face mask made of latex with a texture that, according to the marketers, should resemble Freddy's, a set of false teeth, a makeup tray, two makeup sponges to make it easier to apply, a makeup stick and face glue.
With a little work and imagination, you can create a face look that will probably not be sexy but can fit in with the overall appearance.
Please note: We may make a commission for purchases made through the following links.
Buy Now On HalloweenCostumes.com
Please follow and like us: